"This is living" – Eunice Nyamatala, 28 Years Old – And A Plea from FUST
I am called Eunice Nyamatala, 28 years old. In March 2019, I fled my home district Kasese Western Uganda, when I survived mob justice. Lydia Mutesi (RIP), my fiancé and I were attacked and lynched in our rental unit by an irritated mob. Lydia didn't survive. She died of her injuries. Painfully, I had to abandon her lifeless body at a clinic in Fort Portal district. Fearing for my own life since the clinic had started questioning my relationship with Lydia and asking about my sexual orientation, it was my time to flee again.
It wasn't my time to die. I connected with a human rights organization (which later put me in contact with an LGBTQi organization), and I was offered a job by this organization as a case worker, working on gender-based violence cases involving LGBTQi people.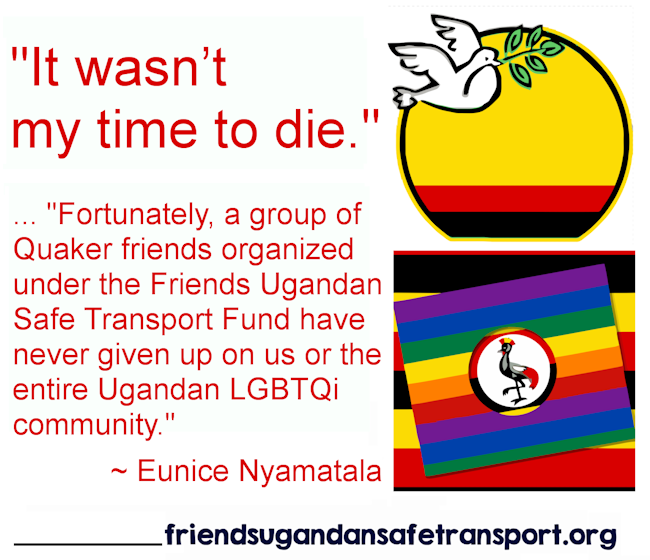 Life was moving on very well. Since I was in-closet, I did all I could to appear straight so as not to arouse any suspicion. However, late last year things started to change. A government spokesperson and a minister hinted that the Ugandan government is reconsidering passing another anti-homosexuality bill. Having survived a mob justice, I was so traumatized and, though I tried to calm down, I wasn't myself. My fears came to light in August 2020 when there was a nationwide hunt for the LGBTQi, in different parts of Uganda. The local Ugandans are claiming that the Ugandan government has failed in eliminating homosexuality. Actually, this is not true because the Ugandan government has special security operatives who are charged with man-hunting LGBTQi persons all over the country. However, it has to be done so secretly so that people in the West don't know what is going on.
Back to my story: on the 10th of August my name was mentioned on Bwera FM Radio in my home district Kasese, that a lesbian who fled Kasese in 2019 has been sighted in Eastern Uganda. This set me packing and I sought for a safe house to hide. I had to abandon my work, which was taking care of me. Fortunately, a group of Quaker friends organized under the Friends Ugandan Safe Transport Fund have never given up on us or the entire Ugandan LGBTQi community. During times of crisis, they are always there to help us. We are lucky at least somebody somewhere out there cares.
Later in September 2020 with several others, we were helped to flee Uganda. I don't think I can ever go back to Uganda. I think I am out of danger. I have gotten a job working with an international tourism company. Actually, they don't even care about my orientation or lifestyle.
Friends, the job you do is very important and I wish to take this opportunity to thank you. You saved my life. ….. now this is living.
—

On November 19th, Ugandan President Museveni, currently campaigning for President, openly attacked the gay community. On the radio, he called upon "peace-loving Ugandans" to take matters into their own hands by arresting, reporting, and stalking any suspected gay people.

This is a recent news report: https://nilepost.co.ug/2020/11/20/museveni-attacks-homosexuals-foreign-groups-says-they-are-sponsoring-opposition-protests/

People are fleeing for their lives. Right now the conductors Friends Ugandan Safe Transport supports have 64 people in hiding, seeking to leave the country. The majority of them are transgender. We need funds ($75 per person) to accomplish this. We have very courageous conductors prepared to undertake this work at great personal risk.

Please help! They cannot do it without your financial support!
Contributions go through the Olympia Friends Meeting, earmarked for FUST. The fastest way is through this PayPal link: https://www.paypal.com/donate/?cmd=_s-xclick&hosted_button_id=75NTGCGG66TDQ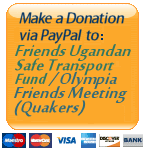 or send a check to:
Olympia Friends Meeting
3201 Boston Harbor Road NE
Olympia, WA 98506
Be sure to put "FUST" or "Uganda" in the note on the check
For more information about your donation or about FUST, see:
http://friendsugandansafetransport.org/donate/

Please share this information. Thank you!