Update from Friends Ugandan Safe Transport to Friends, Donors and Supporters
Dear Friends, Donors and Supporters,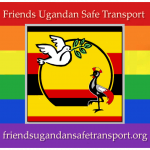 It has been some time since we updated you on the activities of FUST. During the Covid pandemic, things have been especially difficult in Uganda. Out of a population of 45 million, approximately 4 million have received their first vaccination and only 1% are fully vaccinated. In addition, clinics are charging $140. per shot, which is prohibitive for virtually all of the people we work with there. The situation is beyond dire.
Our primary point person who has been sheltering and arranging transport for LGBTQ passengers has been under extreme stress. In addition, he has had some severe health issues. We strongly urged him to discontinue accepting passengers and to care for himself. He is currently hospitalized in Nairobi and requires major surgery. His hospital expenses to date are $4250. We are reaching out to those of you whose generous donations to FUST have supported the safe transport of 2739 passengers. Our dear courageous point person has sheltered and arranged transport for over 300 of these passengers. We want to help him with his medical expenses during this very difficult time. If you can help, please check our website (friendsugandansafetransport.org) for options on how to donate. If you have questions or would like more information, you are welcome to contact either of us.

With gratitude and appreciation, warmly,
Gabi Clayton (360-888-5291)
Kathleen O'Shaunessy (360-943-0489)
Co-managers of FUST
---
Download this letter in PDF format here.