Please support Friends Ugandan Safe Passage Fund.
To make a donation with a credit or debit card through PayPal, click here: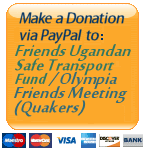 Or send a check made out to "Olympia Friends Meeting" to:
Olympia Friends Meeting
3201 Boston Harbor Road NE
Olympia, WA 98506-2800
Be sure to put "Uganda" or "Ugandan Safe Transport Fund" in the memo line. And please let us know with the form below that you are sending a check so we can use that information to plan.
Note: Contributions to Friends Ugandan Safe Transport Fund through Olympia Monthly Meeting (Olympia Friends Meeting) are tax-deductible. Olympia Monthly Meeting is recognized by the Internal Revenue Service (IRS) as a tax-exempt 501(c)(3) organization. Cash and non-cash contributions are tax deductible to the full extent of applicable law. Our Employer Identification Number (EIN) is 94-3145171.
Let us know you are sending a check through this form:
We want to hear from you! Comments or questions are welcome.
Thank you!