A FUST Conductor's Ordeal: JK – February 2021
I have lived a life, a life I never dreamed of in my childhood, a life so punishing and yet so forgiving. I have lived a life full of strange events, a life without a biological family. I was disowned by my own family at an early age, and lived a life on the streets, a life of drugs and prostitution which dominated most of my early youth. Having a mother who wishes my death and a father who willingly volunteered to kill me given the opportunity, it wasn't an easy path for a young man, so I am used to living life on the run.
I am called JK, a dedicated conductor with the Friends Ugandan Safe Transport (FUST) program, championed by Olympia Friends Meeting in Olympia Washington. I have been volunteering with the program since 2014. Earlier in 2010, after coming into contact with well-respected human rights defenders, I had made a decision to turn my life around. It wasn't easy, having struggled with drugs and life on the streets for so many years, but I decided to start living. After four hard years, my life changed and hope returned. But there were still very limited opportunities for life in Uganda for gay men. I wanted to do something that makes me feel worth living – change lives, save lives – and I possessed aa burning desire to create a mark on history in movement organizing among the gay community in Uganda.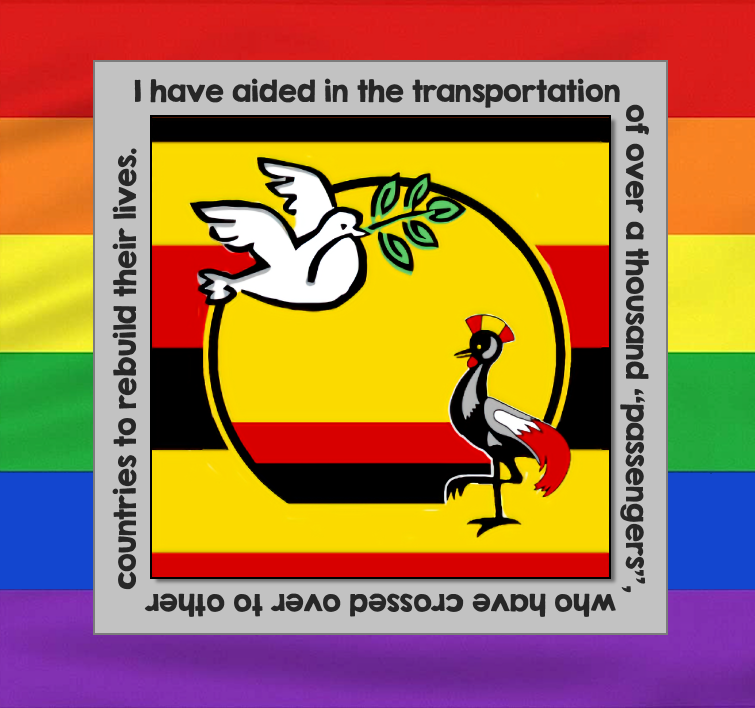 Ever since I became a "conductor" (FUST is modeled on the Underground Railroad in the U.S. prior to the Civil War), many good things have happened in my life. I have aided in the transportation of over a thousand "passengers", who have crossed over to other countries to rebuild their lives.
Working with passengers can sometimes be challenging. I am working with people who have lost hope, who are on the run, who are fleeing death, who have survived lynching and mob justice, who have been disowned by their own families, who have no friends or allies or connections. Some even run mad while in the safe houses. Their mental health is always extremely fragile, and, no, we don't have a psychiatrist on standby.
In this journey I have witnessed death, ritual rape, passengers taking their lives. Some of the conductors have died in the struggle. Yes, we have lost some battles but victory is on our side and we shall surely win the war. It's just a matter of time.
The current political turmoil in Uganda has made things much worse. The President of Uganda, Yoweri Museveni, running to extend his 36-year rule, incited local communities to violence by claiming that the opposition candidate Bobi Wine was funded by an "international homosexual conspiracy. This has drawn so much attention to gay people. In the past year, violence escalated against both the political opposition and the LGBTQi community.
It should be emphasized that we are dealing with a corrupt police system in Uganda, which has mastered the art of extortion, abuse, torture, and blackmail. This makes things more complicated. You can only expect 'justice" if you can buy it from the very authoritarians who can even decide if you live or die. Three quarters of Ugandans believe that the entire police system is corrupt, and it's the very reason they turn to mob justice and lynching, since they know that gay people will be set free, not charged and hence won't serve any jail term. Local homophobes believe that the LGBTQi community can always do whatever it takes to be released, since the police are always willing to take a bribe.
I have been a victim and I have paid my fair share in my struggle to save lives but that's another story.
I would like to take this opportunity to thank the Friends of Olympia and the administrators of and donors to the Friends Uganda Safe Transport fund. You guys are living heroes. Introducing some of us to the life of Quakers has renewed our hopes in life. We have something spiritual which speaks to us, it has reorganized our movement in our community, we can't trade you for anything. As for our Friends meeting here, I don't feel comfortable sharing more details, as it can end up being closed by the authorities. Yet it is an open, welcoming, and affirming Friends meeting.
The active political season especially the general elections for president and the members of parliament plus other elective posts, is always hell for the gay community. This season initially left us with many desperate passengers. Thanks to you we have been able to transport many and at this time are only left with 88 passengers who are hiding in poorly lit, small houses we call safe houses, with little access to food. Please HELP!

I will be sharing briefs as often as I am able, an account that will tell the story of this movement.

Please help with a donation to support the work of JK and FUST!
FUST is a project of Olympia Friends Meeting (Quakers) and contributions go through the Olympia Friends Meeting, earmarked for FUST. This means your donation is tax-deductible.
The fastest way to donate is through this PayPal link: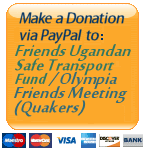 https://www.paypal.com/donate/?cmd=_s-xclick&hosted_button_id=75NTGCGG66TDQ
or send a check to:
Olympia Friends Meeting
3201 Boston Harbor Road NE
Olympia, WA 98506
Be sure to put "FUST" or "Uganda" in the note on the check
For more information about your donation or about FUST, see:
http://friendsugandansafetransport.org/donate/
Thank you!