Situation Critical for 119 LGBTQ Ugandans In Hiding with FUST – An Update, A Plea, A Story of Survival, and More
Right now, the conductors Friends Ugandan Safe Transport Fund works with have 119 LGBTQ Ugandans hiding in four secret locations, waiting for the funds needed to move them out of Uganda to safer countries in order to save them from extreme homophobic / transphobic violence and sometimes death.

It costs $75.00 for the conductors FUST supports to move each person, and so we are posting this update as a plea to those of you who can to make a donation and to share this with others.
Please help! They cannot do it without your financial support!
FUST is a project of Olympia Friends Meeting (Quakers) and contributions go through the Olympia Friends Meeting, earmarked for FUST. This means your donation is tax deductible. The fastest way is through this PayPal link: https://www.paypal.com/donate/?cmd=_s-xclick&hosted_button_id=75NTGCGG66TDQ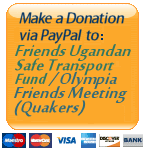 or send a check to:
Olympia Friends Meeting
3201 Boston Harbor Road NE
Olympia, WA 98506
Be sure to put "FUST" or "Uganda" in the note on the check
For more information about your donation or about FUST, see:
http://friendsugandansafetransport.org/donate/

Here is a story of one of the passengers we were able to fund out of Uganda. She survives because of our donors.
Rape doesn't cure lesbianism –
Aisha Fatuma Lukoma 20 Years Old
Hello friends,
I wish to tell my story, not because am proud of what happened to me but rather to tell the world about the gruesome things happening to the gay community in Uganda. Maybe my story will speak to someone, somewhere. Maybe my story will cause the world to stand up and tell Uganda that enough is enough. Maybe this story will speak to Friends to understand that at least personally I really appreciate that they saved my life from the edge of death. Maybe this story will stand out, so that Friends know that they have done a lot not only for me but many others.
I was born on the 3 May 2000 in a non-religious family in Nyenga village, about 70 kilometers from Kampala, the capital of Uganda. Neither my father nor mother had any belief in education or western medicine. My father is a native witchdoctor and so polygamous, with eight wives and over 40 children. Despite the many shortfalls and extreme abuses committed by my biological dad daily, he still commands a lot of respect in and around Nyenga village.
My father always insists that all his children should be married off at or before the age 18. However, when it came to me, things were different. I had not shown any interest in boys nor was I even attracted to boys. Shortly after my 14th birthday, my mother once asked me one evening after coming back from the water well why I only liked girls, I didn't answer her but my sexuality was slowly growing. By the time I was 16, I knew I was not straight, despite my trying to force myself, and hiding. I realized I can never get attracted to boys or men. For fear of my tough ironman father, one day I had to pretend but this pretense affected so much that I even contemplated suicide. But I had a secret lover, a sweet 19-year-old Pauline who is still stuck and held up in Uganda. Pauline loves me and I keep the love on the daily despite the fact that fate separated us
So having failed my father from marrying me off before I turned 18, this June 2020 things started to change. My entire family wasn't happy with my life style of a tomboy. My father and mother made some arrangements and they got for me a 65-year-old man from Kiyula Village. He was already old, married with grandchildren who were way older than me and also with children. My family arranged the bride price and dowry with the elderly man, actually I was just like being sold off, just like an item.
When the marriage was being arranged, the man whom I later learned was named Al-Haji Musa Karim Ssemukasa came to pay a visit and also take a look at his bride-to- be. He was disappointed. He told my father that Aisha has an evil spirit of sapphism or female homosexuality, and that my father should arrange a ritual ceremony to cleanse me of this evil spirit. What it actually means is that, a blood relative (most likely a young, healthy, strong man) of the man (Al-Haji) who is going to become my husband is appointed to do a ritual rape ceremony. It is done publicly before my paternal aunties and my elder sisters. The ceremony is always conducted at midnight.
Of course I objected to the entire arrangement, but I had limited choices. My father had earlier on threatened me with death. My movements were restricted, and I was beginning monitored 24/7. At around 11 p.m. on July 24th, 2020, I was pinned to the ground under the strict watchful eyes of four of my own family members, I was undressed and a young man held his genitals and he seemed like he was enjoying the fighting and the struggles I was putting in attempt to run away. Finally I was restrained and then I was gruesomely raped by 25-year-old Nasur. It was the most painful thing to ever happen to me, and it left me bleeding and disabled, I could hardly walk and the ordeal was just beginning. I can't remember much as I think I passed out because of the trauma. At around 2 a.m., I remember I was still forced to participate in the rest of the rituals, of bathing herbs, taking and eating moringa leaves and juice. For about a week, I was so helpless, and only receiving basic traditional herbs for treatment. I developed fistula and when this news got to the man who was supposed to marry me, it was a turn off and he came home demanding that the dowry and bride price he had earlier on be refunded. This made my family so desperate. They wanted me to recover so quickly so that they could at least have me taken by Al-Haji Musa. But things were not working out so well.
My mother came up with another plan, to reach out to organizations that work with victims of rape. I don't know if I will ever forgive my own mother. After days of searching, she was directed to an organization in another town and, on reaching there, she lied to the organizational leaders that I had been raped by strangers. My mother even warned me that if I told the truth, that it was ritual rape, she would herself make sure that I died.
As I write this story, I have been told not to mention some personal names nor organizational names, so I might not share some specific details.
The organization with their shelter got for me some treatment and I received a procedure and they paid all the bills. After one month, I was going to be discharged but I faked another sickness, so that I don't leave the hospital as I needed buy time to figure out how to flee. Somehow a strong outspoken women and leader at the organization which works with raped women and children noticed something wasn't all right. She begged to have a word with me in private. She asked my mother and other relatives of mine who here around to step aside, I talked privately with her and I told her that I don't want to go back home, that I was ritually raped, and the rape ceremony was organized by my family, and that my father would marry me off, immediately upon my leaving the hospital. My prolonged chat with this strong leader made my family members very uneasy, and before we knew it, they had fled the hospital premises. This made the strong woman realize that I was speaking the truth. With her little resources, she handled me over to another organization which specifically works with LGBTQi community.
Word got around that my family was looking for me and I knew that I was going to be killed if they ever found me. So I asked this other organization if there is any way I could leave Uganda. I wanted to leave the country because I knew I am not safe, just like that and I was also afraid that the strong woman who helped me was going to go after my family and I know how they love revenge.
Luckily, help came in from very unlikely sources, sources which I didn't know existed. I was told, together with other people, that Friends (Quakers) in Olympia, Washington USA have organized some safe transport for us, I was so scared, as I didn't know how this was going to work. Everything fell into place, and after two days and one night I was far, far away from my home village in another country.
I have been here for more than a month, and life is so different here, so different. I don't have to live to anybody's expectations, I don't have to fake anything. Yes, though I still recovering I have gotten a full time job as a janitor. Everybody knows am a lesbian with a story and they just don't care, it's my life and it's mine to make the best out of it. For the first time in my life, it's more of like hakuna matata "no problem".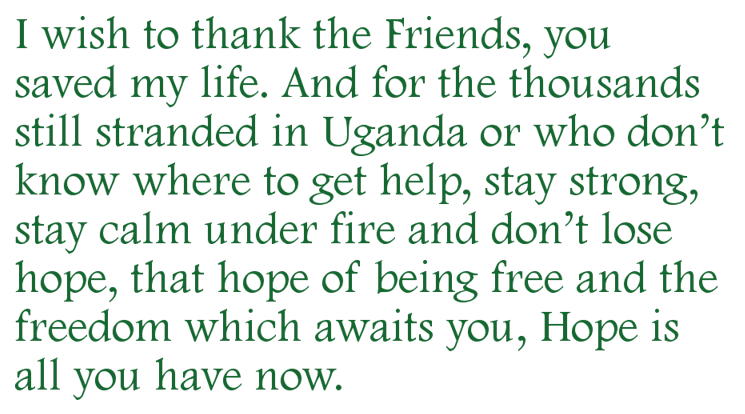 I wish to thank the Friends, you saved my life. And for the thousands still stranded in Uganda or who don't know where to get help, stay strong, stay calm under fire and don't lose hope, that hope of being free and the freedom which awaits you, Hope is all you have now.
Ritual Rape doesn't heal lesbianism.
Share my story
Aisha

Police brutality: Activists demand ICASA boycott of Uganda
by Colin Stewart on November 23, 2020 – posted here includes:
Reports also indicate that President Museveni is alleged to have 'blamed" the protests saying, "they were being funded and supported by homosexuals who do not want a stable Uganda." This anti-gay rhetoric is not new to the President as he has been on record as saying similar, if not, instigating comments against LGBT persons.

From testimonies, including photos and videos circulating online, it's clear that the current administration is bent on crushing opposition voices and presence while trampling human rights, including those which Uganda is a signatory to, on regional and global platforms.