Our One Year Anniversary – Rejoice – and More Work!
Today (April 14th) is the one-year anniversary of the Friends New Underground Railroad.
Through the work of the courageous conductors – all African, both gay and straight – and your support, 1,004 LGBT individuals and endangered allies have now left Uganda and are in countries all around the world.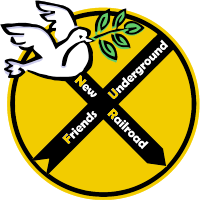 Quite frankly, we are stunned. None of us – neither the conductors without whom this work is impossible – nor Olympia Friends Meeting, the sponsors of the Railroad, had any idea that the need would be this great, or that you would be so generous. We are thankful, and humbled, by what we have been able to do together.
The most recent passengers have one of the most harrowing tales to tell. Twenty-seven left a hiding place after having been mobbed, sexually abused, raped, and beaten. They had been there for almost three months, virtually without food, little water, and absolutely no medical care – and tremendously frightened. One of the conductors finally moved them, but it was found that six of them had developed health difficulties so severe that they couldn't initially complete the journey. We are now pleased to report that, after many trials and tribulations, all six are now out of Uganda, and in a hospital where their care is being paid for by a very generous benefactor.
But, sigh, work continues. We now have 16 lesbian college students who have escaped mob action.

They were able to contact one of the conductors and are now in deep hiding. They are very scared. It's going to cost us $2,960.00 to get them all out, way more than we currently have. The conductor will break them up into groups, and, if all goes well, get them out in groups of three or four, as funds become available.
Please consider giving us an anniversary gift. It is rare that you will get to potentially save the life of someone under such direct threat, so do it now. Even small donations mount up – as we've learned this year.  Donate here.
And celebrate with us – you deserve it!
Gabi