J's Story: Letter from the Wife of a Former FNUR Conductor
"One thing I have learnt is that if you are married to an African man you better gain a better understanding of what keeps him busy. In our African society, we women don't pay a lot of attention to what our husbands are doing. But the recent events have really changed me and I think it's my responsibility now to tell every fellow African woman to gain a better understanding of what her husband is doing.
"I was raised in a strict Christian family, and my dad expected the very best from me. Little did he know that the man I could call my husband and father of my children had a totally different approach to life. While still at the University, my mother mentioned that there must be something wrong with my boyfriend. Being a young excited university student I totally ignored my mother's comments. Even after our cultural wedding and church ceremonies, my siblings never approved our marriage. But being a loving woman I assured my husband it will all be well and it will work out.
"Throughout our university days, my husband had kept a big secret: he was welcoming and accepting of all gay people. When I learnt about this later in life, I thought he was gay. That's when I confronted him, and we talked about it; yes by then I was a very homophobic and hateful person. His explanations didn't make a lot of sense since I was this born-again Christian. I talked about it with my mother who confided in me that my brothers always found my hubby in bars with boys dressed like women, gals and gals kissing but still mixed with them freely. This explained my mother's hatred towards my husband. It was hard for everybody in the family to understand. My father stood his ground and re-stated his words, "I warned you against that man, I never wanted him to be your husband and now you are a disgrace to this family."
"My only option was divorce, but as a Christian that wasn't an option besides everybody in the family concluded without reason that my hubby is gay. To make it simple for you to get a picture, I was no longer welcomed at home and also my children were no longer accepted by their grandpa and granny. From there onwards I realized I have only my hubby, I wanted to make it on my own but I didn't want to raise my children as a single mother.
"SK (my hubby) did all he could to make me understand. He is not a liar so I believed him though it took years for me to come to terms with what was happening. About four years ago, he told me about his lesbian sister and the pains and her struggle. This touched my heart and I decided to befriend his sister. She told me so much about herself; this was very important as it slowly softened my heart and as time went by my hate towards gay people died. To me. she did a good job to make me non-homophobic. When she got serious problems with my hubby's family after the signing of the anti-gay law and yet we didn't have the money to help her leave Uganda to go to Germany where she had contacts, I proposed to my hubby that we sell our car to help her escape. It all worked well, she left Uganda and she is now settled in Berlin, Germany starting a new life.
"This was the beginning of a whole new chapter in our life. My hubby started operating secret movements to help gays escape Uganda through very risky missions. Later, he got into contact with a one Levi of Friends New Underground Railroad and the Quakers. Through their support, my hubby was able to help over 80 gay people escape the horrible situation in Uganda. At one point, we housed over ten gays in our garage at our house. The Friends New Underground Railroad came in to help, and they were moved to (interim country). It was a good work but so stressful and financially draining, and my children always wondered why we are keeping those people in the garage.
"In the course of his actions, he become so empowered and strong. Little did he know that he was raising his risk. He risked so much while giving out information to the homophobic in our small town. When the anti-gay law was overruled; the locals took the matters in their own hands and we became targets. This was the hardest situation I had to deal with: I was always crying how about my children, and what can I do. The Friends New Underground Railroad was right there to stand with us up to the last minute. Yes, it was time for us to run and leave Uganda. Uganda is no longer home. We left behind entirely everything; everything and we are starting from zero.
"The Friends New Underground Railroad and their supporters have been so helpful in getting us settled, now that we are living in Kigali Rwanda where everything is different from Uganda. It will be awhile before we get back to the normal life we were used to. My three children have to learn French. I was lucky that because I can speak and write French, so it was easy for me to get a job. But my hubby hasn't been so lucky, and it has affected his esteem within the family.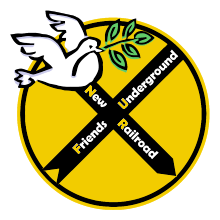 "One day, I will be strong enough to tell my story on camera.  As for now we still have so much to deal with, we request the world for privacy as we try to recover."
…..a wife to a former Conductor (JK-Mrs)
Note: On September 2, 2014 we released Statement of a FNUR Conductor, xxxxx aka "Katende Sam (Mr.)"  and that links to J's husband's statement: "Never say Never" by xxxxxx aka Katende Sam (Mr.) here in PDF format.
---
Of course, the work of the Friends New Underground Railroad continues!
We have a waiting list of 21 LGBT people and we need to raise $3885.00 to cover a conductor's expenses to get them out of Uganda. We also a debt of $2300.00 which is the balance as yet not repaid emergency loan to FNUR which was used to get 45 LGBT people out who were in a critical situation.
PLEASE HELP by making a donation to support the work of other  Ugandan conductors who are working in the field!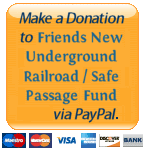 Thank you!