CL's Story – Living in the Jaws of Death Because of Our Sexual Orientation. And An Appeal.
Story from a passenger of Friends New Underground Railroad.

September 22, 2014
Dear Levi Coffin II,
How are you? I believe you are well. I got your contact from your representative here whose name am not free to mention in this letter.
My name is CA aged 23 and a bisexual. I have been a third-year student pursuing a bachelors degree in business administration at one of the private universities in Kampala until recently when our presence was threatened.
We are a group of LGBTs almost reaching 78 in number at this university and belong to a bigger group named —— that has membership across other universities both public and private. We estimate ——'s membership overall to be in the region of 900 or more.
I had my boyfriend at another university and we hit it off well save for the time when the anti-homosexuality law came into force.
We started getting threats from fellow students including one very sad one that I recall vividly. A girl who was open and was not shy about her sexual orientation confronted some guys who were pulling another girl's hair at a basketball tournament and calling her names. The bold and open girl saw a scuffle and went near to find out what was happening. On realizing that the guys were now lynching her friend and accusing her of shaming their faculty by engaging in abominable acts of homosexuality, she held one of the guys by the collar and gave him heavy blows on the face. This infuriated his colleagues and they all pounced on her, almost leaving her for dead.
Three other members of —— at this university and I took her to the university sickbay. The university nurse was very receptive but just administered first aid and referred us to Entebbe Hospital. She was taken to the hospital in a university guild van. At the hospital, we were well received and the girl had a deep cut on the forehead that required stitches. These she got and other medical interventions.
After three days at the hospital, news spread that there was a group of girls that are lesbians and were taking care of a friend who was assaulted. The guys came in droves to the hospital to make an attack and were repulsed by the hospital security as they shouted and chanted anti-homosexuality slogans.
While this was good gesture from the hospital, it didn't do us further good as the hospital management kindly asked us to pack our stuff and leave just for the safety of other patients and also the property which would be damaged if the guys attacked again. Now that this girl was slightly better, but still weak, we managed to take her to one of our friend's room.
The rest of the girls and I went back to campus to continue with our studies, but we were totally wrong. I and my two other friends stayed in the hostel within campus. We arrived at around 8 pm. No sooner had we arrived and unpacked our stuff up than we were simultaneously confronted by four guys who were masked. One guy held me by the neck and I really struggled for breath and speech. I could not even scream for help.
One girl managed to escape and she called two of our friends in the adjacent rooms to come to our rescue.  One of our rescuers came with a big club which she used to hit each of the three guys who were still pounding the girls hard. One guy was terribly injured and the other three ran away. The injured guy was picked up by university security and we later learnt that what happened to us was a machination of some members of the university guild. So the guy was let off easily, not prosecuted, and none of us was ready to follow up the case for fear of reprisals.
We secretly met and decided that we had to take another move for our safety. We had to shift from the university hostel and find accommodation in rented rooms outside the university where we would not be easily traced. We could come and attend lectures and disguise our movements back to our hideouts (rooms).
This game plan lasted for not more than three months and we were soon busted when the guys again attacked my room which I shared with three other girls. We were now locked inside at around 11:45 pm and ready to sleep. The guys banged the door and we shouted for help, thinking they were thugs, until we heard the guys threatening to torch us if we didn't open the door. We refused to heed and fortunately our landlord alerted the police who were prompt in responding. When the guys saw the police patrol car lights, they took off. So we are happy that this time God was on our side and we survived assault.
We could not sleep in the room that night and had to go seek temporary shelter at a chapel disguised as having a night prayer. The following morning we fled to Nakawuka where one of our colleagues had an aunt. We were severally tormented by our fellow students and we realized that we had very limited space to express our discontent even to the administration. All previous attempts to have our tormentors well brought to book were futile as they seemed to be well protected.
Some 29 of us had leave the university" 6 went to Rwanda, 2 went to South Africa and 21 are desperate to flee as they are in constant fear of reprisals from the community any time they get wind of their sexual orientation.
Please all who will read this letter know that more students have left this university either at their own will or been expelled because of their sexual orientation. We have now concluded that this being a Catholic University paints a dark picture that catholic institutions are ideologically bankrupt in as far as respecting the rights of LGBTs. We are aware that even nursing students are expelled in droves based on reality or perception of their sexual orientation. No wonder this has not spared even the seminarians. They have also been showed the exit for either being perceived to be gays or expressing themselves as such.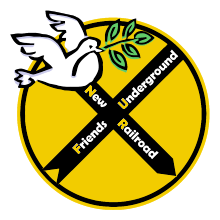 Therefore, I and my friends (21 in all) are in need of support through the contact you have used before to get other victims out of Uganda. We are also proud and thankful to Friends New Underground Railroad (FNUR) for existing to provide support through their contacts to have people like us who are publicly tormented, hated and even killed for being what we are moved out!!!!!
By the way, let no one be deceived that the revocation of the law against homosexuality has made things any better for us. Instead it has invigorated the public to take the law into its hands and we are braced to see more lynching, abuse, evictions and sacking from employment.
All we want is kind-hearted people to help me and my peers flee the country as soon as practically possible because we can never predict when bad luck will strike and we are assaulted or even killed. We are scattered, but are in touch with the FNUR conductor here who knows how best to organize us and have us leave.
Besides, our confidence is now in FNUR, after the big name LGBT organizations here have stated categorically clear to us that they don't have financial resources for people who flee. They encourage us to stay and confront the tormentor. To us this is unreasonably unfair as it would put many lives in harm's way.
Please have all the freedom to share this letter if this will help bring to the fore what the LGBTs in Uganda are enduring even after the law was revoked.
CA
---
Great news – CA was taken out of Uganda by one of the Railroad's conductors on Thursday night along with four other lesbian women. So she and the others are on their way to their new lives.
So as of today – October 5, 2014 – our donors have financed the Ugandan conductors to aid 595 individuals to escape: 581 LGBTQ adults, 6 straight allies, and 8 children.
And we have 16 more in hiding with this conductor. We need your help to raise $185 each for the transportation costs, so we need to raise $2960.00.
Please help us with your donation and tell your friends:
Donate through PayPal here: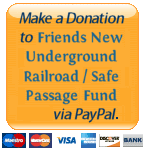 or find out about how to send a check here:
http://friendsugandansafetransport.org/donate/
Thank you!