Emergency medical funds needed for an FNUR conductor who has assisted close to 300 LGBT Ugandans
We need to raise at least $875 in emergency funds to aid one of the FNUR Ugandan conductors who is in the hospital dealing with multiple medical crises.
On Monday this conductor, who collapsed from a clot and who has some medical knowledge, wrote:
"Its not all good and am in a situation where I can't help myself. I have clot which is moving towards my vital organs. I am hospitalized right now and I need medical help now according to the medical report."
He had surgery Monday for the clot and the operation was a success. We were able to send money to cover the operation. He was in intensive care and then the general ward.
Then yesterday, on Thursday, he was denied medication and medical care because of lack of money to pay the hospital bill.
The friend who has been assisting him and communicating with us wrote: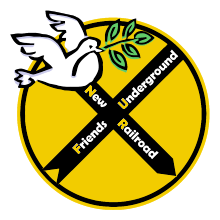 "To the hospital we are broke poor people who seem not to have anybody who can help us and we can't give out any security details. Am going to ask the hospital to discharge him so we don't accumulate the bed bill tonight. Besides he isn't being attended to so its better I take him back to his roomed house where I will look after him. If he dies from the complex surgeries he had God knows I did my best."
"The current need from the money needed for his medications etc. Tube feeding all his medication and hospital bed admission and care and transport as I move up and down.
"Africa is such evil no money no medical care. [Conductor's name] is on drips and connecting wires but one nurse understands he will disconnect him so that I don't land into mob trouble which will compromise our security and exposes both me and [conductor's name] who have kept a dark closet to help others on extreme danger
"am here with him in the general men's ward. When am so broke and crying I rush out. Its 9am here and the situation isn't so good since he hasn't received any medication since 1pm when he was moved from the other unit."
Then 12 hours ago:
"The hospital didn't discharge us last night so am trying to get a discharge this morning."
And an hour ago:
"For sound medical reasons [conductor's name] had to remain in the hospital. Am now back to the hospital to watch him for a night. Sometimes the very people who are supposed to save lives end up being so heartless."
Help us send the urgently needed money for this conductor's hospital bills and for medication – antibiotics after surgery, painkillers, medication for his typhoid and malaria.
Please make a donation to help this man who has saved so many people!
Thank you.