Testimony from Michael, a Railroad Transporter
Greetings from my rainy and sunny town. It's this time of the year when birds of all different parts of the country flock the banks of River Nile. They create sing heavenly music and many people come to watch them. Generally, as Christmas Season closes in, more Ugandans are likely to be in a happy mood, business picks up, Ugandans living abroad return home to spend the holidays with their families.
Unfortunately, those happy and smiley faces are hiding hatred inside. As a transporter who has traveled all over Uganda as I do my business, I have come to learn that it will take a while for Ugandans to be more welcoming and accepting of gay people. Over the years I have been doing a personal assessment of the situation and I have learned that for every 5 Ugandans I have spoken with, four are willing to commit a hate crime against a gay person, and they believe it is okay and not a crime to kill a gay person. When the anti-gay law was introduced in Uganda many politicians rose to stardom because they supported the law. When the Courts of law decided that the anti-gay law should be thrown out on technical grounds, the Ugandan government didn't take responsibility to explain to the average Ugandans what was happening.
At the end of the day, local Ugandans, especially in the rural communities and villages, still believe the law is active, and when they see that the police aren't doing their "work" they take the law in their own hands. That's why there is an increased mob justice and attacks on gay persons in Uganda.
I have been in the transport business since 1973. I took on this business from my father who was also a transporter, and my grandfather was one of the first cab drivers during the colonial days. This business has given our family exposure and opportunity to learn that human beings can always be different in one way or another. I have met different people with different lines of thinking. I have met the good, the bad, the humanists, the believers, the gay, the straight, the cult leaders, the witches, the reds, the blues, the blacks, the whites, etc. This has taught me very important lessons of life, and I have come to accept and love human kinds however they may come to my life.
However, there is one character – W.A. – who touched my life (am afraid I can't mention names – but he was one of the very first Friends New Underground Railroad conductors, and was beaten so badly that he lost a kidney, and still suffers from other injuries.) In 2008, he was standing at a bus stop having spent about five days in police cells. He looked sad, starved, abused, and not healthy. He wanted a lift, but he had no coin on him. But since I had space in the cab car I was driving, I decided to drop him off.
Along the way, we found a policeman being beaten by a group of university students who were striking. He told me to stop, and he moved out of the car and shouted at top of his voice "stop, please stop." I wondered what this boy was up to. Well it worked, and the students stopped beating the police officer. He went on to preach to the students a message of nonviolence and how the day can be won when people agree to disagree. I tooted the horn of my car so that this young man could come back into the car and I drop him off. He was wasting my time yet he wasn't going to pay even a coin. All along, the policeman was seated on the ground bleeding and the students were listening. W.A. asked me to allow the police officer sit in the car, so we could take him to the hospital. I feared saying no. As if W.A. was going to pay, I obeyed.
As we approached the hospital, W.A. started talking to the police officer. As they talked, I learnt that a few days ago, it was the same police officer who had arrested W.A. for his involvement in gay activities. This same police officer had flooded W.A's police cell, and he was the same officer who hates gay people. It here I learned that W.A. was gay and runs a gay organization. And now W.A. was here saving him from a mob and taking him to the hospital.  After taking the police officer to hospital, he went ahead and called the very police station where he had been and even went back to make a statement regarding the beaten police officer.
This act of love and forgiveness touched my heart and changed my life forever. I was like, okay so gay persons are more than simply same sex?!! It was something new in my life and to cut the long story short. W.A. became my first gay friend and he also introduced me to several other gay persons.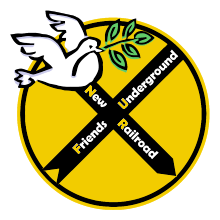 The recent events in Uganda have seen me make sacrifices to offer a service not many transporters are willing to offer. With one heart, I have used my business to transport over 400 gay persons out of Uganda at great risk. Organizations like Friends New Underground Railroad and a few individuals have made sure that I am always paid so that I can do the work without any setbacks. My drivers are always happy to work on these risky missions because they have always been treated with respect.
All the Quakers who unite themselves in Friends New Underground Railroad are very understanding and always sending apologies whenever there is a delay. Am so proud to be on their team.
Friends New Underground Railroad, your work is priceless!
Thanks and Best Regards
Michael
---
Please make a donation to support the work of Friends New Underground Railroad.