"If Everybody Runs Away, Who is Going to Help Others?" The Story of SM, a FNUR Conductor in Uganda
Am called SM. I was born in January 1973 in Jinja Township. I was born to GR and IM. I come from a family of 3 brothers and 3 sisters. Am the last born. I love swimming and beach volleyball, I also love wearing leather.
I went to Victoria Primary School and Wakitaka Senior Secondary School in Jinja town.
From early childhood, I developed a liking for fellow boys as compared to girls, and this didn't go down well with my parents who always encouraged me to interact with both girls and boys. At the age of 15, I realized that I have strong sexual feelings towards FM who was our neighbor. This crush was too much, and it landed me in trouble when I wrote a love chat to F, though I did this innocently and I didn't know what to expect. Everybody started judging me, and I was nicknamed Omusiyaga which means a gay man in our community.
My dad, who took close interest in this matter, thought I was mentally disordered, so he asked his doctor friend to talk to me and also check if there were any medical issues. To him, this was the most embarrassing thing to his family, as F's parents reported the matter to the local authorities.  Local officials called for a village meeting where I was punished publicly by the cane.
Later that week, after the doctor checked me out, he reported back to my dad that everything was okay, but only that I have a small and almost under-developed penis.
To avoid the shame on the village, dad organized that I join the boarding section of the school, at the school boys' hostel, I accepted this offer with one heart, but I was equally feeling so ashamed of myself in the village.
Everything changed when I joined the boarding section of the school, I was happy and I also found boys who felt the same way. Somehow we had to hide everything from the teachers and school administration or I risked being suspended from this boarding section. In second school term, one of my friends told me I was so cute and lovely. This is when we both realized that sexually we are different from other people. I had my first kiss with WA on the eve of my 17th birthday. This was the most wonderful thing which ever happened to me while growing up. I even started sharing a bed in the mid of the night with A.
To fast forward, our happiness didn't last long, as A fell in love with another boy, I felt used and abused, and somehow we started a fight which fight was reported to the school head. The headmaster just called both our parents and told them the news; this was like the end of my road. Though the school had suspended me, also my dad abandoned me at the school property, and he swore to kill me if I ever even tried to step on his compound.
I died alive. I considered taking my life, so I bought a rope and searched for a tree in the bushes near the school gardens. As I attempted to hang myself, a snake charged at me and I had to run. This was so traumatizing. Without transport or any money on me I walked for over 18km in the night to an uncle whom I was sure would be welcoming, only to reach his place when he had already received the news. So I become homeless at 17. I did all sorts of things to survive as a street boy, til I landed on a group of tourists who used to start at the Nile Backpackers in Jinja. This was a golden chance, or so I thought. I used to clean the compound and do the garden work, til some started paying me for sex. They could sleep with me, and once they left, another group comes in I did the same. Little did I know that I had become a sex worker, yes I was, and it gave me some money to even start a salon business nearby, I earned some money as I also grew in age, but my life was seriously in danger.
At 25, having spent years without hearing from my family, my mother came back to my life to haunt me, because Jinja is a small town, I was busted, and my secret life once again became an open book to everybody. Mom made it a point that she disowned me publicly, and told everybody who cared to listen that I am a gay sex worker. It was time to run and find another place to begin a new life. So I moved to Mukono about two hours away.
But because I had already mastered the art of survival, beginning a new life in Mukono wasn't so hard; my own challenge was to find clients who wanted sex services. So financially, I was grounded but I got a job in a salon as a hair stylist, with this small job at least I was able to buy food and pay my rent.
At 26, I had been in different battles with the police and the law but I had never been detained in a police cell. But I ran short of luck later in 2001 when I was arrested for cross-dressing (I was wearing a legging and a top for ladies) Though it was a small crime, I was paraded on UBC TV station and the news was that I dress like that so that I could take advantage of unsuspecting men who can take me for a woman, so that I could drug them and steal their belongings. Of course this wasn't true, but without any legal support I was detained for more than 3 days. Somehow Mom who was watching the news saw me and she came down to the police station, not to bail me out, but to tell the police officers that I am gay and that she can even bring witnesses if am presented in the courts of law.
That evening on 18th Aug 2001 I was given a police bond which I jumped and moved on to Kampala leaving Mukono for good. Life in Kampala was about the sex trade and clients were available in different hotels and bars.
In 2010 I realized that I was living with HIV. This was the worst news and my whole world came down at once. I tried reconnecting with my parents but nothing worked out, though I went to [town name], as even some of my friends in Kampala started looking at me as a sick person and due to die any time. Without friends, I had to start making new friends and that's how I got into contact with an organization which works with and for people like me. I got a lot of support regarding my HIV, and I made new friends and I even fell in love through our meetings with different people in the community.
The end of 2012 saw me being wanted by the police for a homosexuality case I never committed and that's how I ended up into hiding at a safe place in [town name], knowing that I have nowhere to run, I considered applying for refugee status, but I resisted, this saying to myself if everybody runs away who is going to help others? So I started working hard and strong as an activist, mastering the art of working in hostile environment. In 2012/July I was assigned to T to be his assistant in the Human Rights Desk, Legal Aid and Risk Management.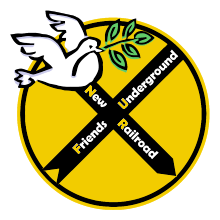 I have been involved in many struggles, managing with very little resources. So many people have reasons to be afraid for their lives and know they cannot live here anymore, so I have helped in the crossing of over 83 LGBTQ out of Uganda to safer areas.
Despite living with HIV/AIDS am so happy with the work I do.
Change doesn't just happen. It takes you and me. Please join with Friends New Underground Railroad and the Quakers who are believing in change.
##
Please make a donation to support the work of SM and the other conductors that Friends New Underground Railroad works with.