Exposure In Tabloid Newspaper Places Ugandan LGBTIs To More Danger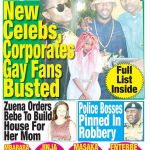 Note from one of FUST's Ugandan conductors:
"I want to tell you that a tabloid newspaper is exposing LGBTIs both in the corporate and other local celebrities in Uganda.  I got the papers yesterday."
Gabi: "If you can translate we can share on our website."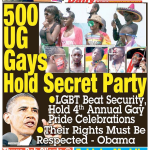 "It is in English. This exposure places LGBTIs in the corporate world to more danger just like the ones we have moved out ."
Click the images to see the covers larger.
Please make a donation so we can fund more LGBTQ people who are in hiding waiting for aid to get out of Uganda.
Click the button above to use PayPal or a credit or debit card.
Or to send a check see this page.
Thank you!