We thought we could enjoy our rights wherever and whenever we could as human beings. Enjoy our rights in the context that we are adults and for as long as our enjoyments did not in any way violate the rights of other folks. For example, choosing who I have an intimate relationship with in our view would be perfectly okay.
We were very wrong on this, at least wrong for being in a military cadet training and more so in Uganda.
Having been recruited for the training seven months ago in a nationwide recruitment exercise, we thought we had started on a journey that would improve our livelihoods. Unemployment is rife in Uganda and its alarming levels have turned it into among the major social problems that the government has to grapple with.
The screening for the cadet training was rigorous, and out of the over 3500 youth that turned up for interviews at different countrywide centres, only 325 were finally recruited. We were told during our orientation that the military training we had enrolled for was not a tea party but a very rigorous exercise that called for a lot of combined attributes, patience, commitment, time management, and most importantly highest level of discipline. We surely did not have any issues with the aforementioned requirements at a glance.
All trainees were university graduates, and upon completion would all come out at the rank of lieutenant. Many trainees knew each other considering that many also came from the same universities.
I subscribed to the Q-Hearts, an informal group of LGBTs which is silently operating at different universities and colleges in the country, and coincidentally a good number of our members had been recruited for the cadet training. We were gradually able to establish that the Q-Hearts members for the training were in the region of 37 men and women who included lesbians, gays and transgender people among others. Precisely, 13 were women and 24 were men. Either by design of default almost half were in attendance with their partners. We were able to constitute a loose leadership structure for ease of coordination. We did this, however, very cautiously.
The training is meant to last 12 months so we progressed well for the first seven months until some information filtered in to the leadership that there is a small group of like-minded cadets who were 'misbehaving' and were becoming 'undisciplined.' We suspected that someone had been planted to follow every step of our activity clandestinely, and since we did not expect anyone to beat our level of organization, we knew we were on top of our game. We were wrong on this as well.

One morning we appeared for the early morning parade and as usual roll-call was done and the subsequent routine drills, exercises and the classroom lessons that followed. However, around break time, we got wind of the pregnant plan to summon four of our members over 'indiscipline'.
Considering, the degree of isolation and discrimination meted on our members in the past month we knew something terrible was looming.
One very senior lady officer had one time around the fifth month in the training talked about the crisis that had eaten up the army globally as being the phenomenon of homosexuality, and cautioned us against being lured into it. She passionately talked about it and emphasised that this is a western culture which we should not copy. She knocked her words of caution really hard in that we knew that in the circumstance that any of us was apprehended, military rules and regulations would be brought to apply. Actually, the lady officer went an extra mile to inquire whether there were any homosexuals among us and the whole class went dead silent. She ended her presentation by seriously reminding us that engaging in homosexuality in the army grossly violated army code of conduct in Uganda and also contradicted the norms and cultures of the country, hence should be accorded the contempt it deserved.

Luckily, when a crisis meeting was called to discuss the emerging group of homosexuals, one sympathetic officer who we later learnt was among the founding members of the Q-Hearts while still at university, reached out and informed one of us he personally knew through another forum that 32 cadets were targeted for a very heavy punishment. Remember, we had 37 known members and now 5 were not listed. This kept us scratching our heads and thinking that unless we looked at the list, we could not be certain that the names there were of all our members. We managed through our sympathetic officer friend to see the list and learnt that the 32 were all members of the Q-Hearts. However, we now concerned ourselves with the fact that five members had been skipped and left out on the list. Anyhow that now mattered less since we now knew who the victims were and had to devise means and ways to sort out ourselves as fast as possible.
Mobilizing ourselves as a group of Q-Hearts is the most efficient activity and we undertook it with precision. We spread the word that we had to hastily find our way out of the training venue or else be subjected to the court martial which is a military court. If this was to happen, that would be the most tormenting experience of our lives. We knew many rules would be bent as we had been told by the sympathetic officer that he would never wish any of us to be brought before the court martial as in his view there is no fairness and equity.
We now grappled with the hard thought of how we were going to get out of the high security training facility.
Indeed, our escape is the hardest thing that ever happened in our lifetime considering that we know the penalty that one would get upon arrest. We agreed in unison that hook or crook we had to get out of the facility or else we face dire consequences.
Our group had five cellular phones which were also kept secretly as they are not allowed for trainees. We effectively coordinated our plans using WhatsApp and word of mouth to spread on what happens next.
We mooted a plan to mobilize money and gauge the option of bribing the guards. None of us had a coin on us and we only had to solicit for money from relatives and friends who we could not even tell the exact reason why we needed money. Luckily, we managed to do all the ground work and established that our plan of bribing the guards was the riskiest venture one would undertake on planet earth. Bribing guards with money was now off the list and we now considered reverting to our sympathetic officer friend. However, access to him was not as easy as we hoped. Since he had given his number to our leader, contact was made and a meeting was arranged for the two to discuss our issue. Time was running out since we had been told that the next meeting would decide our fate in three weeks' time.
We were to later learn that one trainer of the morning drills was gay and actually he would be our redeemer in our escape plan. We did not bother establishing how our sympathetic officer friend did the final manoeuvre plan but certainly it worked out for us after three days. Know that 32 people had to vanish out of the drill and escape to safety.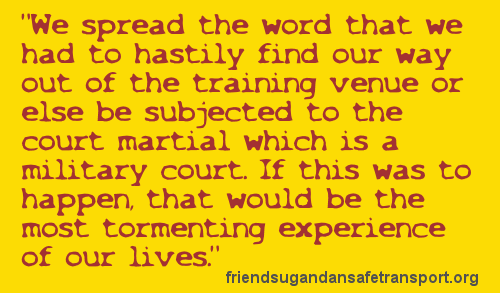 Long story short, we were able to finally escape from the morning drills of over 300 people at different points and from around three groups. We managed to find our way to safety using hired motorcycles for transportation to different points. Unluckily, six of our members were arrested later on in a small township near the training facility and are now apparently helping the army find us. We get updates on the hunt for us from our sympathetic officer friend.
Eight of us managed to regroup and make contact with a volunteer who is widely known in the Q-Hearts fraternity. He [a FUST conductor] accommodates us and is making effort to reach his friends abroad to get financial support so that we can move to safety in another country within the region.
We are living in constant fear since we know that our actions border on a very serious crime of treason.
Please kind-hearted people out there do help us by giving money to FUST who will in turn have it passed onto the volunteer that will finally arrange our exit.
We are eight and are looking forward to knowing that there are people who mind about the fate of persecuted LGBTs in the world in general and Uganda in particular.
[fruitful_sep]
The conductor Friends Ugandan Safe Transport works with has these eight military cadets in his care, and they are in extreme danger. He also has six lesbian nursing college students who were found out and escaped to seek safety and transport.
Please make a donation if you can help us fund these people out of Uganda. It cost $185 for each passenger. Any amount helps! Thank you.