Esther's Story: My Only Crime Was Love
I am called Esther Mugasha. 26 yrs old currently living in South Africa as a refugee, I fled from Uganda in June 2014 with a sizeable number of fellow lesbians and gays who believed in the search for freedom and safety.
I was born and raised in and around Lugazi in Mukono with a single mother. Life threw at us all sorts of challenges but through education and hard work I managed to become a chef at a big hotel in Mukono.
But all my life I kept a big secret from almost everybody apart from my girlfriend with whom I was in a relationship. We stayed in this relationship till the Kill gay bill was passed in parliament. For some reasons I can't really tell, she decided to move to the city as a way of dealing with the breakup. After several months without contact, I decided to reach out to other people who might know her whereabouts only to learn that she took her life. This was so heartbreaking and I thought I was the reason she committed suicide. Somehow without thinking straight I decided to talk to open up to some people on what I was going through. Little did I know that this was the beginning of another horrifying and terror chapter in my life. One of the people I opened up to was my own mother; she immediately went mad and called a clan meeting so that a ritual rape ceremony was organized to heal me of my lesbianism. This wasn't something I could allow; I couldn't participate in such a dehumanizing ceremony.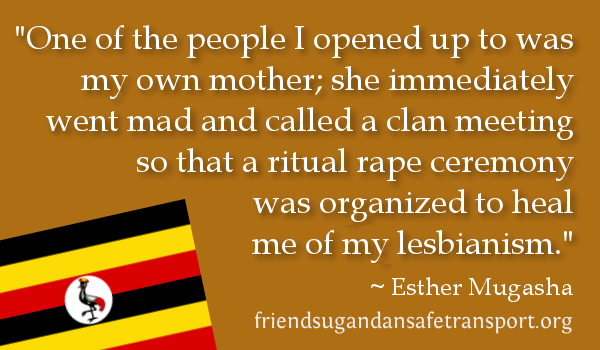 When I didn't turn up for the ritual event, my mother became my No.1 enemy, she even started haunting me. She tried another approach of taking me to the Bishop of Lugazi to pray for me, of which I told her that mom I am fine and I was born like that. That's when she disowned me.
Through a workmate my mother tried to poison me with rat killer chemicals, I survived after spending months in hospital, even when it became known that somebody wanted to kill me, nobody was interested in pressing charges when I realized that I wouldn't be believed and I had so many enemies, my employers weren't willing to keep me in the job because I was a "disgrace" to them. When my landlord ordered me off the rental house I had, I decided to run.
Because I was living a very closed private life, I found it hard to get support, nor did I have any knowledge on how to escape from Uganda before I was arrested. I must say I was lucky because a few clicks online I got in touch with a support Organization and FUSTF paid for my safe escaping from Uganda.
Settling here hasn't been easy but it's better than Uganda. Being gay in Uganda has a billion challenges, you don't know what to expect, you don't know who is following you, you don't know why you are being stalked, everyone becomes a suspect that he or she has intentions to kill you. Nobody minds me here, I have gotten opportunities for further studies and working. I have started my life all over again.
I am happy and impressed with FUSTF [Friends Ugandan Safe Transport Fund] and how they operate, so safe and all they need is you to be out of danger. Such high level organization and ability to respond to the crying and dying puts a big smile on my face. Through our networks they have saved lives, helped many like us leave Uganda and start a new life. I have learnt that simple means can really change lives around.
The only crime I committed was to love the one I wanted because we were born this way, many in Uganda judged me and my love was only saved because FUSTF was willing to listen and respond on time.
Thanks once again.
Esther
---
The work continues! Please make a donation to support the work of Friends Ugandan Safe Transport Fund to help other people like Esther.  Between the conductors, today there are 44 LGBT people in hiding, waiting for us to raise the funds to pay for their transportation out of Uganda.
Please make a donation to Friends Ugandan Safe Transport Fund.