RK: However much she screamed for help, the more she attracted more beatings.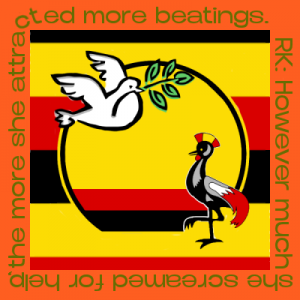 Life has not been easy for me right from childhood. I am a half-caste (Indian father and Ugandan mother).
I have 2 siblings all older than me. 21 years ago, my mother worked at the residence of a very wealthy Indian that stayed in our neighbourhood. She did all manner of odd jobs to take care of her children as a single mother. The Indian had his family back home in India and he stayed here on purely business status.
One day the Indian raped my mother and I was conceived as a result. My mother reported the case to police and she did not get justice. Instead the police aided the man to escape. So I am a product of rape and don't know who my father is.
I have been aware I am a lesbian from as young as 13 and this has really been misunderstood by most people who crossed my path as I grew. The slum community we lived in was characteristic of calling me all sorts of names such as creep, shit, cockroach among others.
At around 19 years, I felt I needed someone to love. I had a crush on a very cute girl at the school I attended and made all attempts to make her know how much I loved her. I could buy small presents like hankies and sweets just to make her happy. However, she seemed to misread my intentions as casual friendship. I was becoming impatient and wanted to make my case known now. I chose to write a hand-written love letter. I crafted my seven-paragraphed letter with very clear and precise wording.
I waited until the evening when we are leaving to go back home and handed the letter to my girl. She grabbed the letter and with a beaming smile put it in her bag. I naively thought this was my chance now to hit a jack pot at real love. Little did I know that the letter was going to send me to near-hell in the next 24 hours.
I woke up unusually early the following day in anticipation that my girl would find me already settled and ready to receive her acceptance either written or oral. I was damn wrong on this. A very furious girl entered our class and found me pretending to be reading a Mills and Boon novel. She caught my blouse by the collar and slapped me three times. I sensed danger and attempted to flee but was subdued by two boys who had been briefed apparently before she entered class.
My so-called girl turned foe, followed hurriedly as the boys dragged me towards the headteacher's office. The guys had a very firm grip on me and by the time we reached the headteacher's office, I felt immense pain in my hands.
Long story short, my stay in that school was cut short by a summary dismissal and a threat for possible jailing.
I had just two terms to sit my final examinations for the upper secondary level. I was deeply engrossed in thoughts about how I was going to tell my mother. Poor as she was, she did not hate me for who I was but struggled every day to have all of us go through school. My elder siblings had each attained a relatively good level of education and were now able to also contribute towards my school fees.
Much as I had a dismissal letter in tow, it made nonsense to give it to her since she was illiterate. I decided to tell her verbally, and she was really hurt because they had just pooled money together to have me be in school and now hardly a term here I am expelled.
My brother and sister were so disappointed but did not give up on supporting me. A school was found and I was able to begin. This time although painful, I made all attempts at hiding my real self although feelings of love could once in a while overtake the better part of me.
Long story short, I completed my final year and was able to score 9 points which merited me admission to a nursing college.
The nursing college was a relatively friendly place so I thought but was completely wrong. The big number of LGBTs at the college did not make it any better for us to thrive and study as well as enjoy ourselves as we are.
We identified with each other well and made all effort to keep our issues to our chests. However, we are what we are and we could not hold onto for eternity. We learnt that those that are found to be LGBTs are harshly treated. We saw one time when a woman was locked in a very tiny dark room and was being hit by a piece of firewood. However much she screamed for help, the more she attracted more beatings. She was released and cautioned but the bullying that followed made it increasingly difficult for her to continue with the course.
What is shocking is the fact that there were fellow students who spy on us on behalf of management. We came to learn that a number of students were lined up for possible humiliation because they are what they are.
On good evidence, my name featured prominently and a haste plan was mooted to have us leave as soon as we could. We mobilized ourselves and left the next day at night. We were 8 in number.
Humiliation, rejection and physical and emotional abuse can be detrimental to one's enjoyment of fundamental human rights. My country has a universal and generally held belief that LGBTs are a curse and society has been corrupted that the law can be taken in their hands. We could not stand becoming another statistic if any of us were captured and persecuted for belonging to LGBTs.
Humble appeal and a big thank you
I have learnt from our volunteer that a good number of our brothers and sisters have been aided with donated funds to flee persecution since 2014. I am delightedly thanking all those compassionate people that have made financial contribution to this cause of helping LGBTs flee persecution.
I am just one lucky woman who with seven other women managed to act fast to elude an imminent danger. 24 of our colleagues are also possible targets of the radicals and sooner than later they may be harmed.
I have learnt that through our compassionate volunteer, we shall be able to flee to another country. I therefore thank all those that make contributions to enable our volunteer have us move out.
I politely, request that those kind people making contributions towards the cause of persecuted LGBTs, continue the good gesture because the persecution is bigger than many people believe.
I passionately appeal that our dear colleagues who are 24 women in number be aided if they ever get in touch with the volunteer.
Maybe one day I will find a receptive country and pursue my dream of a career nursing.
---