Appeal: "I couldn't stop my self from crying! I have seen queers being burnt but this was too much for me."
Hello everyone, I want to share this update from one of the Railroad's "conductors" in the field:
Hello friends,  I am just setting off from —. What I have seen makes me cry, the situation is extremely very dangerous. I wonder where are all those organizations which are well founded. Couldn't they know that humans have been reduced to less than animals? This is so bad. I want to openly say that — is a very courageous man, when nobody stood up, he has stood with these queers for almost — months. He has kept them within —, fooling the others that these are not queers but rather —, his luck went out days ago when a visitor identified one, it took a strong man like — to take the situation under control. He sealed off 30 of them in a small room fit for about 8 people. [He] gave me full access to these queers, I interviewed all the 30, each sharing their personal stories. Way forward, it has been agreed that we move all of them.
Am sorry, Gabi, for being in this mood, it was just too horrible for me, this is an eye opener for me, though we are all in the rural villagers but queers in the deep remote cut off rural villages again, go through so much. Queers shared with me all sorts of stories, including one of collective rape to heal lesbianism and then forced into marriage.
Am sorry for not explaining in details at once, I was so confused and stressed by their situation, while I was interviewing one by one I broke down and started crying, I couldn't stop my self from crying! I have seen queers being burnt but this was too much for me.
Please help with a donation! We have these 30 LGBT persons waiting for support to cross out of Uganda. We need to raise $64.00 each including transport, food and lodging one night before crossing, so $1920.00 for all.
In addition, 14 of these LGBTQ Ugandans in hiding with the Railroad in are in need of urgent health care support. 8 have malaria and 5 have typhoid fever. 1 has bowel issues. They cannot receive health care from providers without being turned over to law enforcement – after first being rejected care. A conductor has found a doc who is willing to consult on their care.
To support them while in hiding please also consider donating towards the cost of their medicine:
$14 each for malarial treatment for 8 people = $112.00.
$16 each for typhoid fever treatment for 5 people = $80.00, and
$23 for individual who needs adult diapers and bowel control medicine. For a total of an extra $215.00 for these medical needs.
Please help with a donation! Click this button to donate through PayPal: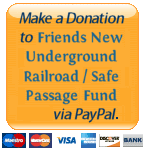 Or go to this page on our website for information on how to donate with a check: http://friendsugandansafetransport.org/donate/
Donations are tax deductible through Olympia Friends Meeting.
Thank you!
Gabi Clayton
, co-manager, Friends New Underground Railroad