A lot has happened to LGBTQ people Uganda in the last few days. An appeal.
A lot has happened in Uganda in the days since we last posted.
On August 1st a Ugandan court overturned the country's Anti-Homosexuality Act on procedural grounds because there may not have been a quorum present when it was passed by parliament. That would be good news (even though it was on a technicality) but immediately some things happened in reaction that made things even worse than before.
The haters in Uganda immediately started plans to appeal the ruling. See: The Uganda Ruling is Good For Everyone But Gays – 08.01.14 – by Jay Michaelson
A court overturned Uganda's anti-homosexuality bill, giving a convenient out to the African and American leaders. But it could make the backlash against LGBT Ugandans even worse.
On that same day, 8/1/14, we heard from a Ugandan:
"There was a massive protest in Iganga township today, it lasted from 9:30am to 6pm, it was well attended by the muslims, catholics, haters, homophobic and haters. It all demanded that President Museveni makes an executive order to make homosexuality (lgbtq and all the related illegal) this has sent a message of hate, they called on the west to leave Uganda alone."
 So actually, things got much worse after the law was overturned. Angry mobs were stirred and went looking  for LGBTQ people to attack.
Some of the Ugandan 'leadership' also made things worse. For example, Pastor David Livingstone Kiganda said:
"If gays win the court case tomorrow, trust me we are going to slaughter them."
See: UGANDAN PASTORS HAVE LAUNCHED A WAR AGAINST LGBTI PERSONS
One of our supporters heard about David Livingstone Kiganda's call and wrote:
"Do you have any reports from your people in Uganda about what is happening? The things in these reports wouldn't surprise me but I don't want to spread rumors without some type of verification. It sounds even worse than it was before the Act was stopped."

We asked a conductor and he replied:
"Yes this Pastor has been calling for genocide for the whole week. He wants his followers to attack and kill any suspected gay people. He has a big following, he has churches in every town in Uganda, so he is a potential danger.
We are very aware of this and we have increased the security level in our circles."
Since the court decision, LGBTQ Ugandans have had to deal with brutal bloody beatings, homes burned down, and desperate flights to find safe shelter.
A conductor had 73 LGBTQ people who were in extreme danger if they remained in hiding. We had no funds for this, but a transporter agreed to move them out of Uganda on short-term credit. This is not a wealthy patron donating services, but a small businessman. He paid his drivers and paid for fuel for the trips out of his own money which he cannot afford to carry.
The railroad moved the people and later the conductor wrote:
I had a crazy busy night but am happy to confirm that all the passengers crossed safely despite the heavy rain and scaring thunderstorms and lightening, we also suffered a snake bite, — was beaten by a snake but am always prepared for such, good enough it wasn't a poisonous snake but — was abit traumatized.
Donations to the Railroad are coming in more slowly right now as some people are confused by the Ugandan court announcement.
Right now we must raise $2,236.00 to pay this debt. The transporter needs the money to continue to offer his services — and if our conductor does not pay him as soon as possible then he may not trust him again.
Please help with a donation! Click this button to donate through PayPal: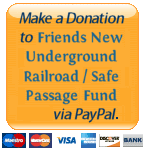 Or go to this page on our website for information on how to donate with a check: http://friendsugandansafetransport.org/donate/
Donations are tax deductible through Olympia Friends Meeting.
Please share this post so others will know.
Thank you!