Appeal: A Ugandan Railroad Conductor Needs Urgent Medical Care
As of today we have supported the Ugandan citizen conductors to help 231 LGBTQ individuals escape from Uganda.
That is the good news.
The bad news is that in addition to the ongoing crisis we have an urgent medical situation we are asking for your help with.
One of the Ugandan 'conductors' was caught, held hostage, assaulted and was assisted by another conductor to escape. This is the second person we have been working with who has been bashed by haters while doing this critical work. When we say these people are putting their lives on the line to save others we are not exaggerating.
This is the report from the assisting conductor – redacted to protect identities and other sensitive information that would put them and those they are assisting out of the country at risk:
"… while trying to help [the passengers to] escape. The driver made several mistakes and they were kidnapped … some money was paid as a ransom, we try to manage the situation to avoid exposure and attention as, if the routes … get attention and exposure it makes crossing for future passengers totally impossible. [conductor's name] was mis treated so that we pay some money, a stick pushed in his eye, which he has now lost, his side ear cut, somehow we got him out, following a game plan I played with the police … [conductor's name] finally got to Kenya, first admitted a hospital but was expensive so he was moved to — by our sponsor and team in —, he has so far received so treatment including a surgery on his eye. We need some support towards his 2 operations.
"… we have to get [conductor's name] operated on the spinal cord as there is also a clot, there is a quote of $1.407 and another of $523 So any contribution will be much appreciated."
So we are putting out this appeal – a call for donations to raise $1,930.00 to pay for medical care for this conductor who was assaulted while doing the work to save fellow Ugandan people who happen to be LGBTQ. 
This is in addition to the ongoing call for donations to pay for the cost of getting more Ugandan passengers out.
Please make a donation!
To make a donation with PayPal, click here: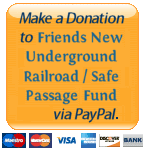 Or send a check – see our donation page for how to do that.
Note:  Contributions to Friends New Underground Railroad/Safe Passage Fund through Olympia Friends Meeting are tax-deductible.
Please share this appeal with others to help us reach as many people, organizations, etc. as possible.
Thank you,
Gabi Clayton
Olympia, Washington
Co-Clerk, Peace and Social Justice Committee
Olympia Monthly Meeting
http://olympiafriends.org/
Friends New Underground Railroad (FNUR): http://friendsnewundergroundrailroad.org/
FNUR on Facebook: http://www.facebook.com/FriendsNewUndergroundRailroad
FNUR on Twitter: http://twitter.com/FrNewUndergrRR