Snapshots – Seven Updates from Friends Ugandan Safe Transport Passengers
For now just call me YK. I love telling my story in a more simple way. What I know I was born a lesbian, never been attracted to the opposite sex, I love girls and girls. Yes  I was born this way. Besides my sexual orientation there is more to me, I am good sports woman, I love dancing and its through these two hobbies that I earn a living here in Nairobi. Oh why did I leave Uganda??? Honestly I didn't leave Uganda, I run, I just escaped thanks to the friends in US who run a safe transport underground rail program for gays and lesbians in danger. We came in a group of 52 and by mid of Aug last year I had already gotten a job and a place to stay. Am a hard working one and life is looking good. I forgot to tell you, I can't return back to Uganda even if the situation changes, those guys just wanted me dead. Am working on my papers and I am hoping to seek refuge in the Netherlands. Cheers YK
Greetings from  Poland, this is your home gal Viva, its has been long since we last communicated. Settling here in Poland hasn't been so easy especially because of the language barrier but am learning Polish slowly and this will open up new opportunities for me. Am getting used to the food and the Polish life style. Never the less am grateful to you guys especially FNUR for having saved my life to help me escape from Uganda. Thanks Viva
Most of my friends call me Jojo and I don't mind the name. I just wana thank Friends Ugandan Safe Transport Fund for all the sacrifices they make to save as many as possible the fleeing LGBTq from Uganda. As a beneficiary of the program, I will be forever grateful. Finally am settled here in Kigali Rwanda.
Hey, I felt  I should write down something to just say thanks to all those donors and friends of the Friends Ugandan Safe Transport Fund. Your work is priceless and to the thousand plus who have benefited from this arrangement you mean the world to us. Am an orphan who never saw my dad or mom, I was picked from the streets and I grew up from the Orphanage. This was an Orphanage managed and run by hardcore born again Christians, by the age of 18 they started noticing that I wasn't straight, despite the rainfall like prayers which lasted for more than 9 months, nothing changed, they asked me out and even exposed me, one time I was attacked on the streets in Mbale, that's when I learnt that my life is in danger. I sought for help and I was helped to escape from Mbale and am settled here in Kigali. Thanks everybody, Flashee
Am called Dell, one of the girls who left Uganda in 2014 after being exposed in the local news papers about our gay lives. After leaving Uganda I stay in Kenya for 6 months then an opportunity came where I could get a job in the UAE. Though they aren't gay friendly they hardly mind we black Africans. I stay with my girlfriend and we are working hard. In the next 5 years we plan to go and live in Sweden. Thanks Friends Ugandan Safe Transport Fund.
Hello friends,
Greetings from Bujumbura here in Burundi. Times have been a little too hard lately but the situation has cooled down and life is back to normal. I settled here in Burundi after escaping from the dangers of life I encountered daily in Uganda. When one isn't "straight" in Uganda you face countless challenges everyday. Though one can stand all the pain day in day out but when you are exposed it's the end, chances are high that one can even be killed. As a lesbian whose family refused to accept me as I was, they wanted to force me into marriage to a man fit to be my grandfather. So when I heard of a program of Friends Uganda Safe Transport Fund, I decided to request for immediate support. I was dully assessed and they verified my claims, and after 3 months of waiting I was contacted that we are good to go. We were kept in hiding for 2 weeks and where one of the passengers took his life because he was over stressed and he thought that the mission had failed. Luckily among all the 46 passengers, us the 45 made it safely without so much struggles. It took me another 6 months before I could finally settle here in Burundi. I love music and am working on a couple of rights and freedom songs with a celebrated producer. Watch this space.
Thanks
CD
Hi, I send you greetings from Kigali Rwanda, am called Oliver Kawempala. Am a medical student here. I left Uganda in 2014 with the funding from FNUR. Thanks so much for having saved my life. I hate speaking about what happened to me while in Uganda because as a lesbian I went through a lot. My heart is healing piece by piece.
---
Right now there are 75 passengers in hiding in the care of the FUST conductors, waiting for funds to get them out of Uganda. They are 14 gay men, 27 lesbian women, 27 transgender persons (17 F2M and 10 M2F), and 7 bisexual people (2 men and 4 women) – between 19 and 31 years old.

Please make a donation to Friends Ugandan Safe Transport Fund so we can support more people like YK, Viva, Jojo, Flashee, Dell, and CD out of Uganda.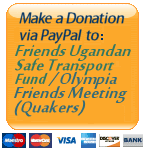 More info on donations here.
Thank you!